LLUMINOX Nano Films - Eclipse - The Art of Nano Ceramics Technology
http://www.lluminox.com
MONZA AUTOSPORT
EXCLUSIVE AUTHORIZED DEALER LLUMINOX Nanofilms
LLUMINOX Nanofilms - Eclipse Series, kaca film dari U.S.A dg teknologi terbaru advance nano ceramic yg memberikan spesifikasi dan performa tinggi, hi-clarity, Bergaransi 8thn, tapi harganya
paling value for money
diantara KF hi-spec top of the line (VKOOL, HuperOptik, 3M, etc), silakan buktikan!
Why LLUMINOX Nanofilms - Eclipse series?
• Advance technology of Nano Ceramics, metal free films that will not corrosive and friendly with GPS.
• High spec films, rejects 99% of Infra-Red Radiation and harmful Ultra Violet rays.
• High clarity and visibility.
• More value for money compare to other products with the same specification.
• The performance of LLUMINOX Nanofilms - Eclipse are tested by Atlas Material Testing Solution in U.S.A
• Provides 8 years warranty.
PROVEN
http://www.modifikasi.com/showthread.ph ... 2055706408
elnaestre wrote:bos mw numpang testimoni nih

ane beli 1 agustus 2011

dah setahun lewat nih....

masih inget banget soale waktu itu pas endingnya promo eclipse ya

....

lupa pake seri yg brp

samping 70 %, depan belakang yg 35 klo gk salah

bener2 maknyusss dah...!!:salute:

buat yg mw pasang eclipse

mending datang k workshopnya deh ....
RE-ORDER
http://www.modifikasi.com/showthread.ph ... ost9474277
avenGer wrote:komen ah...

lagi2 pasang di monza buat jazz... E35 + E15
buat kualitas? ga usah ditanya kali ya wong specnya tinggi gitu tp harga maknyuss...
yang gw demen tuh jernih banget kfnya malem juga tetep keliatan keluar, siang apalagi tp ga kepanasan.
produk monza emang ajib2 dah, jok kulit udah kf udah, apalagi nih? hid? wkwkwk
............
sukses deh monza
OVERALL REVIEW
http://www.kaskus.co.id/post/0000000000 ... 0697503669
fajar_miko wrote:sesuai janji ane kemaren, skg mau kasih testi lengkap setelah pasang KF eclipse E35 utk depan dan E15 utk samping+belakang:

1. untuk monzanya okeh banget, mulai dari tanya2 lwt pm sampe di MGK waktu masih bingung mau pasang apa smua pertanyaan dijawab dengan sabar dan memuaskan tanpa berusaha untuk mengarahkan kita segera membeli (tipe konsultan nih, bukan sales..hehe)

2. pemasangan rapi, memuaskan, sampe ane tinggal pergi ke apartemen temen di sebrang pas udah mau selesai ane ditelpon dari monza.

3. harga terus terang gak bandingin dengan banyak tempat, tapi dari testimoni yg lain udah keliatan kok trus jg waktu gw cek dengan lapak laen yg termasuk besar dan ngakunya juga dealer resmi salah satu KF gw dikasih harga lebih mahal sampe 40% dibanding monza(nah!!!)

4. untuk eclipsenya sendiri performance okeh bgt, walaupun kejemur panas terik sampe 3 jam panasnya jauh berkurang dibanding KF bawaan mobil, di kasih ac sebentar juga udah dingin lagi, waktu nyetir juga tangan gak panas dan juga hemat AC karena sekarang penggunaan AC coolingnya berkurang..

5. tadinya sempet ngeri juga liat hasilnya, kok gelap banget ya, tapi begitu di dalemnya berasa nyaman, pemandangan ke luar tetap jelas baik kaca samping ataupun depan, bahkan waktu malam hari ane tanya ke istri yg pake kaca mata dia bilang tetap nyaman utk liat ke luar.

pokoknya okeh deh utk pelayanan dan produk dari monza ini..TOOPPPP!!!!
Eclipse on Ferrari 360 Modena.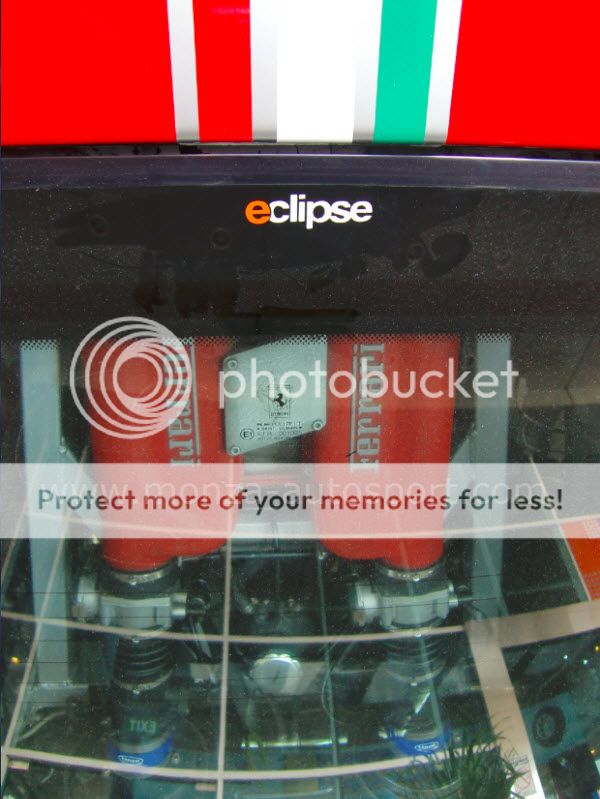 [Spoiler= Ferrari 360 Modena - Full Eclipse E65]
[/spoiler]
OTHER TESTIMONY OR PROVE? .. WE HAVE LOT'S OF EM .. SEE BELOW
NOTE:
1. Pemasangan bisa dirumah/kantor (note: diluar Jakarta Pusat dan sekitarnya dikenakan ongkos transport teknisi sesuai dg jarak tempuh lokasi)
2. Coverage area pemasangan Jabotabek.
3.
Harga tidak mengikat dan dapat berubah bila harga material dari supplier naik (akan diupdate)
Alamat & Peta Lokasi Workshop >>>
CLICK HERE