Moderators: F 272, y_anjasrana, ginting, FRD, artoodetoo, b8099ok
Member of Senior Mechanic

Posts: 218
Joined: 07 Dec 2017, 13:47
Location: sby
Daily Vehicle: hrv
---
Member of Mechanic Engineer

Posts: 1418
Joined: 14 Dec 2012, 20:44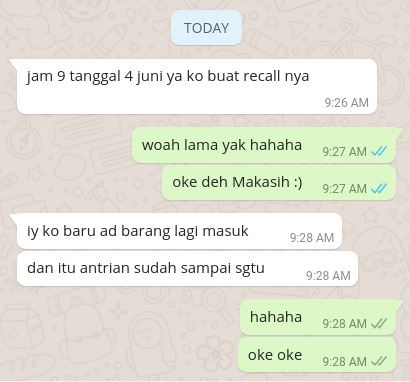 Sabar ya yg mau recall

---
Member of Senior Mechanic

Posts: 297
Joined: 16 Dec 2015, 09:27
Kalo bisa mobil cbu thailand, gw milih yg thailand deh, mau dikata gak dukung roduk rakitan lokal ya gmn ya. Jauh sama thailand.
---
Full Member of Mechanic Engineer

Posts: 5377
Joined: 28 Aug 2008, 17:32
harusnya honda bs lebih baik ya, salah satu daya tarik org beli merk jepang kan terkenal bandelnya.
---
Member of Mechanic Engineer

Posts: 1621
Joined: 14 Feb 2014, 15:01
hendranata

wrote:

↑

15 Dec 2017, 11:21

makanya hpm kasi garansi 3th .haha..
3th garansi utk smua part?
Td pagi saya br aj ganti gas airbag pnumpang kiri dpn di honda prit nik 2013...sy sih senang aj ad perhatian dan tanggung jawab honda dlm bentuk recall tsb meski usia mbl sdh hampir 5th...pdhal bisa aj klo sd kejual ga ad kjadian berat ya ga akan tau gasnya bermasalah apa ga...lio17 ane jg 2bln lalu recall master rem pdhal ane biasa bw kenceng ya ga brasa ad mslh.
Msh bagus ad recall drpd cuma edukasi aj
---
Full Member of Mechanic Engineer

Posts: 3630
Joined: 28 Oct 2012, 11:58
mantap kalo recal...

baru telpon sodara untuk telpon ke sowrom kota besar dl apakah bisa ada penggantian master rem...walo gak ada masalah pe skrg..

biasalah yg penting ada tanggung jawab...namanya jg mobil teknologi tinggi..

merci harga 1 M asli CBU bule aja baru sampe rumah 2 hari plat blm ada lgsg di towing bengkel..

recal diam2..

enjoy aja..
---
Member of Junior Mechanic

Posts: 26
Joined: 12 Jul 2007, 13:34
Sudah ada yg ganti master rem nggak? Saya sudah booking dari bulan February sampe sekarang masih belum datang juga barangnya.
Parah juga nih Honda.
---
Member of Senior Mechanic

Posts: 257
Joined: 02 Nov 2016, 08:59
Pilih recall atau di-cap kurang edukasi ? The choice is yours ...
---